Make this your best session ever!
With a little planning, and maybe a little luck, we'll make this your best family photography session ever! We'll go over all the details below so that together, we create images your family will treasure for forever.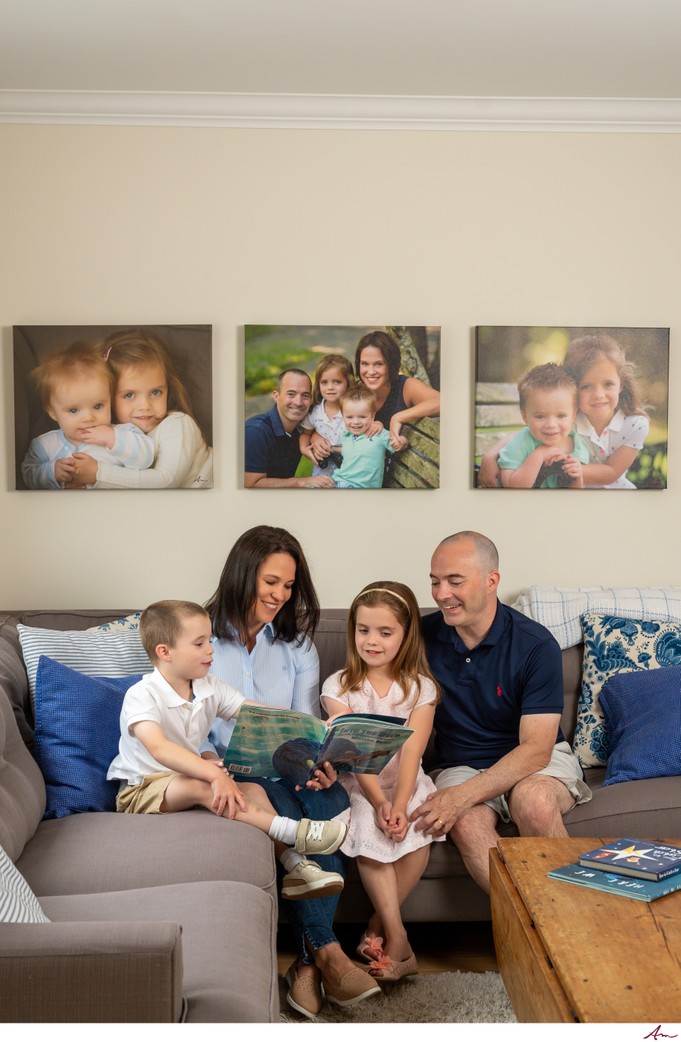 Before Your Session
Theme
Time to think about the type of session you'd like to have. We would love to capture anything that shows your uniqueness as a family. What activities do you all enjoy? Are there games you like to play? Hiking, piggybacks maybe even a water fight!
Planning for your finished images
Start to look around your home with this in mind. Is there a wall or two that are blank or have an old print from your university days that could stand to be replaced? Displaying your images on your home's walls is one of the best ways to enjoy them. We also offer a beautiful line of framed prints - the smaller sizes 5x7, 8x10 and 11x14 all stand on their own and look great on bookcases and side tables. If there are too many 'favourites' from your session, we also have Italian-made albums that are sure to become family heirlooms your children and their children will treasure one day.
Location
Our home or yours or maybe a park or the beach. We have a 1200 sq foot studio and live on a couple of acres. So between the inside and out, we've got you covered. We can also come to you and shoot inside your home and out. There are so many details in your home that we all take for granted now that we would love to look back on as the years go by. Everything changes - makes me sad if I think about it too much :(
What to wear
This is a big one but it's really not that hard. Here are the main points:
You don't all have to match - thank goodness, right?
Darker solids are best - denim, greens, browns, greys, blues and sometimes blacks - we love black and wear black all the time but it's easy to look like you're all in uniform if you overdo the black
Avoid bright colours, patterns, too much white - all tend to draw your eyes away from faces - white pants are the worst! Sorry, I had to get that off my chest.
Bring a quick change - it can be nice to mix things up and if you arrive and think 'what was I thinking when I picked that out' you'll have a plan 'B'
Lighter at the beach - darker everywhere else - white pants are okay here ;)
Dress for the weather and in layers - taking off a jacket or sweater can be a quick and easy way to mix things up.
Timing
Kids schedules trump all else - things can go south really quick when our smaller subjects are really tired. So, if there's a best time of day for your little ones, let's just go with it! Otherwise, a couple of hours before sunset is usually best for light.
Bring your dog(s) - we love dogs! We love cats too but most aren't into traveling. If we're shooting at your home, let's get a shot with miss kitty.
If you have younger children, it may be a good idea to chat with them in advance about the shoot and let them know we're going to have a whole bunch of fun and take some pictures along the way
The Session Day
Feed the children beforehand - and maybe your husband! Hangriness and photo shoots don't mix!
Snacks available during the session are better than bribes for later
Let us do most of the talking - sometimes kids like to argue with their parents - I know, right! It may be better if we try and coax them into position.
We keep things moving, interactive and fun!
BYOP - (bring your own props) This is totally optional - no need to force this one. As long as it's authentic, feel free to bring something that says your family. From baseball gloves, a favourite book, an instrument, maybe team jerseys if you're all into dressing up and watching sports together :)
Once we wrap up your session, it might be a nice time to go out for some well-deserved ice cream or family dinner. Pro tip: telling older kids during the session you're doing this can work in your favour - telling younger kids, not so much.
Your Viewing Session
Kate will either make or confirm your viewing session appointment - this is usually within a few days of the session.
At the viewing, we will present your finished images on a big screen and show you samples of our favourite ways to display family images. These include gallery-wrapped canvas, designer albums from Italy and beautiful frames made right here in Canada.
It amazes me how quickly kids get bored out of their minds looking at pictures! We'd love to have your full attention so here are a couple of suggestions. Grab a sitter and make plans to go out for dinner after your viewing or bring them along and we can ask our daughter Sophia to entertain them.
Planning Your Family Session